---
Selkie Reflections
Hidden Door Festival 11.06.2022
Selkie Reflections was commissioned by Hidden Door Festival 2021-2022. Curated by Alliyah, the project emphasised collaboration involving a Sound Installation and Live Show which in total spanned a nine month process bringing together a group with nine artists of varying disciplines.


Dancers & Choreographers. Hannah Deus Draper & Molly Danter
Cellist. Henriette Kesten
Harpist. Queen of Harps
Videographer. CalMac
Jeweller. Nina Candino
Costume Designer & Atilliers. Alliyah Enyo, Fiona Smith, Bernice Smith
Collaborating Producer. Naafi (Final Song, The Healer*)
Curator, Performer & Producer. Alliyah Enyo

Additional thanks to Greendoor Studios Glasgow & Hidden Door Festival for enabling this vision to come to life.


---
Live Show
Selkie Reflections
Old Royal High School Calton Hill, Central Chamber Hall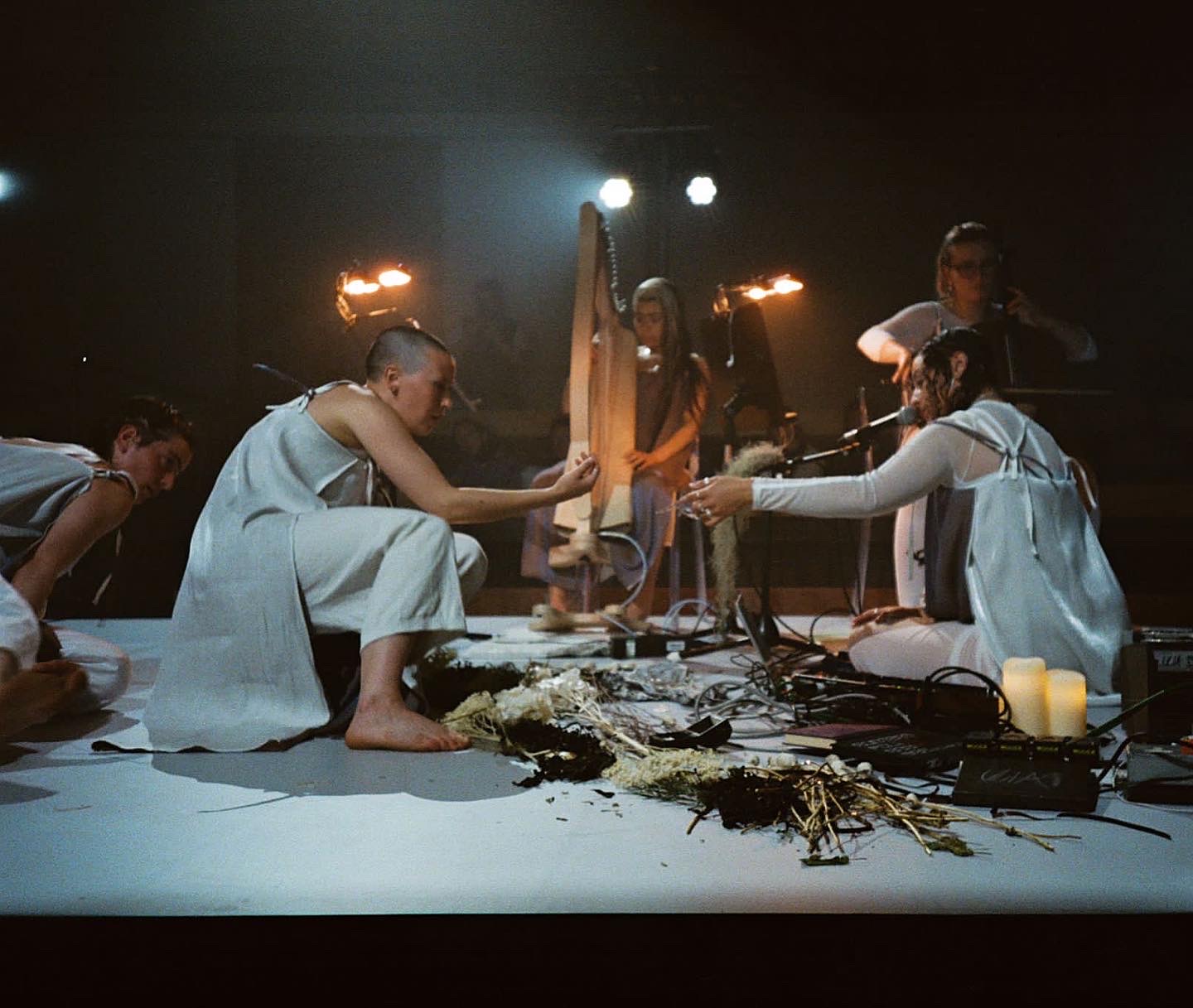 Gallery Slideshow
---
Sound Installation

Sound Piece Selkie Tape Loops I, II, III, IV
'Selkie Tape Loops I,II,III,IV' sound installation presented as part of Hidden Door Festival 2022. The immersive work existed over a 24 hour period to allude to the headline show at 10pm, discovered across multiple corridoors inside the Old Royal Highschool basement.


The work included an 'intervention' with an improvised score of both vocals and movement performed by Alliyah Enyo, Hannh Deus Draper and Molly Danter. Ephemeral moments were captured by Miriam Craddock using film photography.


Recorded onto tape, the piece was created by Alliyah using reel-to-reel tape machines in collaboration with Greendoor Studios Glasgow 2022.


'Selkie Tape Loops' is currently installed inside Edinburgh Sculpture Workshop's Beacon Tower, located by the sea near Newhaven harbour.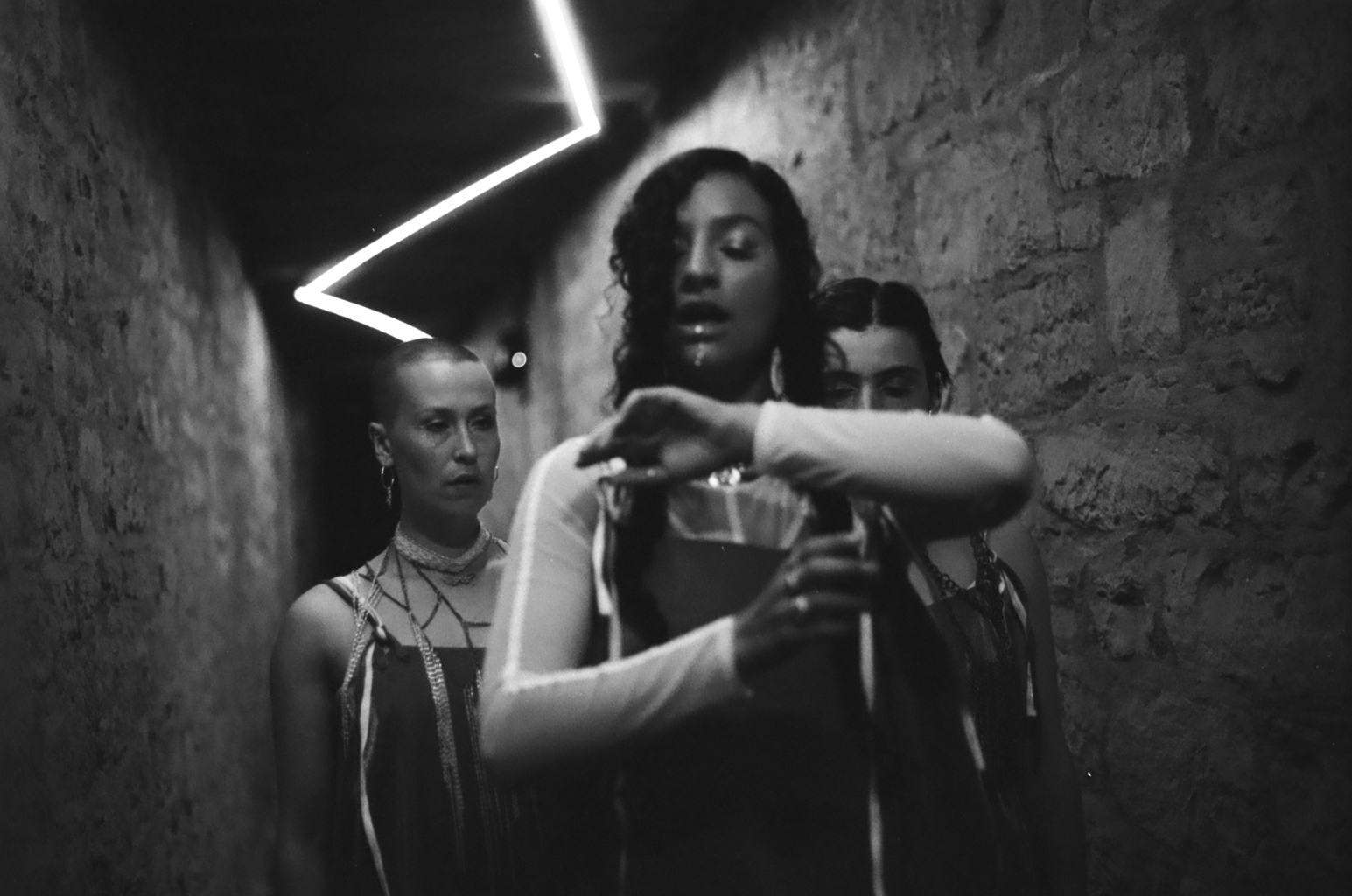 ---
Photograhy Shoot
Yearning for Water
Photography by Alliyah Enyo & Naafi
---

Selkie Reflections
Writings
Echoic memory describes the memory storage process, with only short-term memory capabilities of the sounds you hear. Audible memories (e.g. a voice recording) is incredible for its emotional resonance because unlike visual stimuli we cannot scan the sounds over and over. It becomes in a sense forgotten. When you hear an audio recording of a person from years ago it feels particularly emotional as the memory has almost been excavated, unlocking a deeper time frame. Through researching Humpback Whale communication Alliyah draws comparisons for this kind of communication we have within our own internal auditory memories.

Humpback Whales use song to converse underwater, sound takes longer to travel when submerged. The song and conversation essentially arrives at different times. They experience conversation in a non-linear soundscape, different songs arriving together but each from different points in time. Analogue technologies are harnessed, creating live tape loops, harnessing looping processes, accompanied by a Cellist (Henriette Kesten) and Harpist (Queen of Harps).

Siren and Selkie mythology frame the project, the process of 'mythologisation', as a baseline within Alliyah's practice. Most of these stories are ones of grief, which is the underlying emotional theme of the work. Believing grief distorts your sense of time, Alliyah and her team perform a work transcending a typical pace for a headline show. Time is slowed, distorted, warped, submerged in her harrowing song and evocative movements- performed and choreographed by Hannah Deus Draper and Molly Danter. The performance casts a spell, luring the audience into an emotional and mythical space...

How do we perceive time?
How do we experience it?
How do memories form?
How do memories unfold?
How do we remember emotion?
How do we recall it?
How does it resonate years later?
With a photograph?
With a smell?
With a touch?
With a sound?
Sound stuns memory, what we forget most easily is what becomes most resonant.
It resonates in us all that we felt and have forgotten.
What we feel and what we have experienced between breaths.
Breathe here.
And listen like a child holds a shell from the oceans water break.
I hear a call from across the water, warped and rippling in my ear like the texture of the sands.
I forgot this yet I have not forgiven.
I forgot what I felt yet still I feel.
I have forgotten time yet I remember seconds.
I experience time looped twice over, over and over.
The whale call reaches another as late as we gaze upon a stars death.
I gaze upon death too, as the echo splinters my ears.
---